NEW BRITAIN STADIUM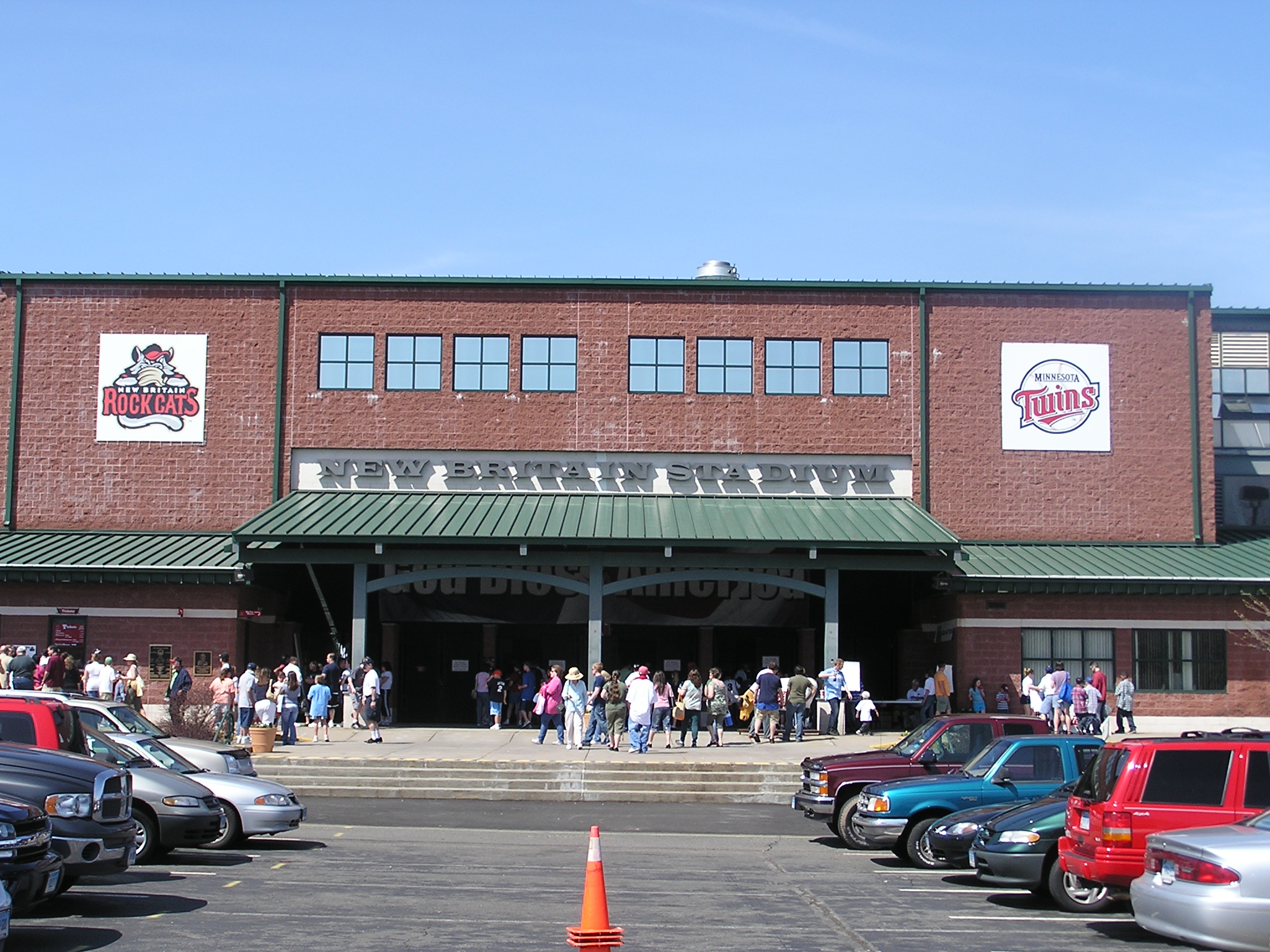 TEAM ::: HARDWARE CITY ROCK CATS
(CURRENTLY THE NEW BRITAIN ROCK CATS)
LOCATION ::: NEW BRITAIN, CONNECTICUT
MY FIRST GAME ::: ARRIL 12,1996
( THIS WAS OPENING NIGHT AND THE FIRST GAME EVER PLAYED HERE )
OPPONENT ::: NEW HAVEN RAVENS
LEVEL ::: EASTERN LEAGUE 'AA'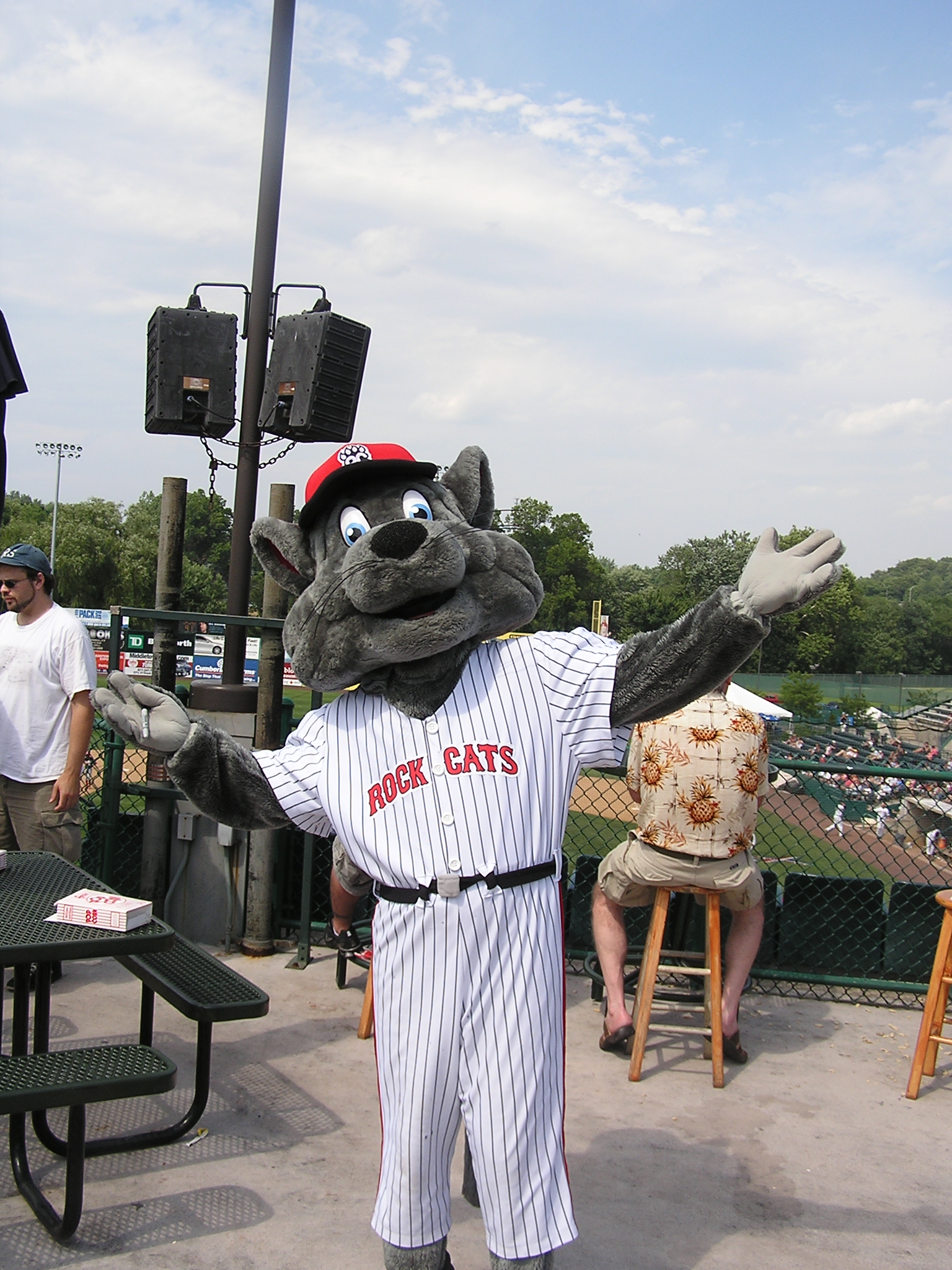 RATINGS

BALLFIELD ::: A-
SCOREBOARD ::: B
FACILITIES ::: C+
FOOD ::: B
MASCOT ::: A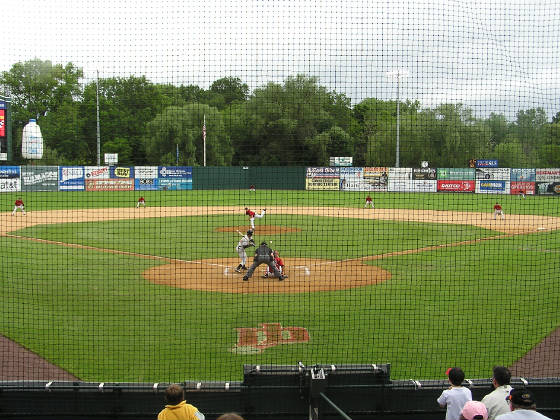 MY TAKE ON THE PARK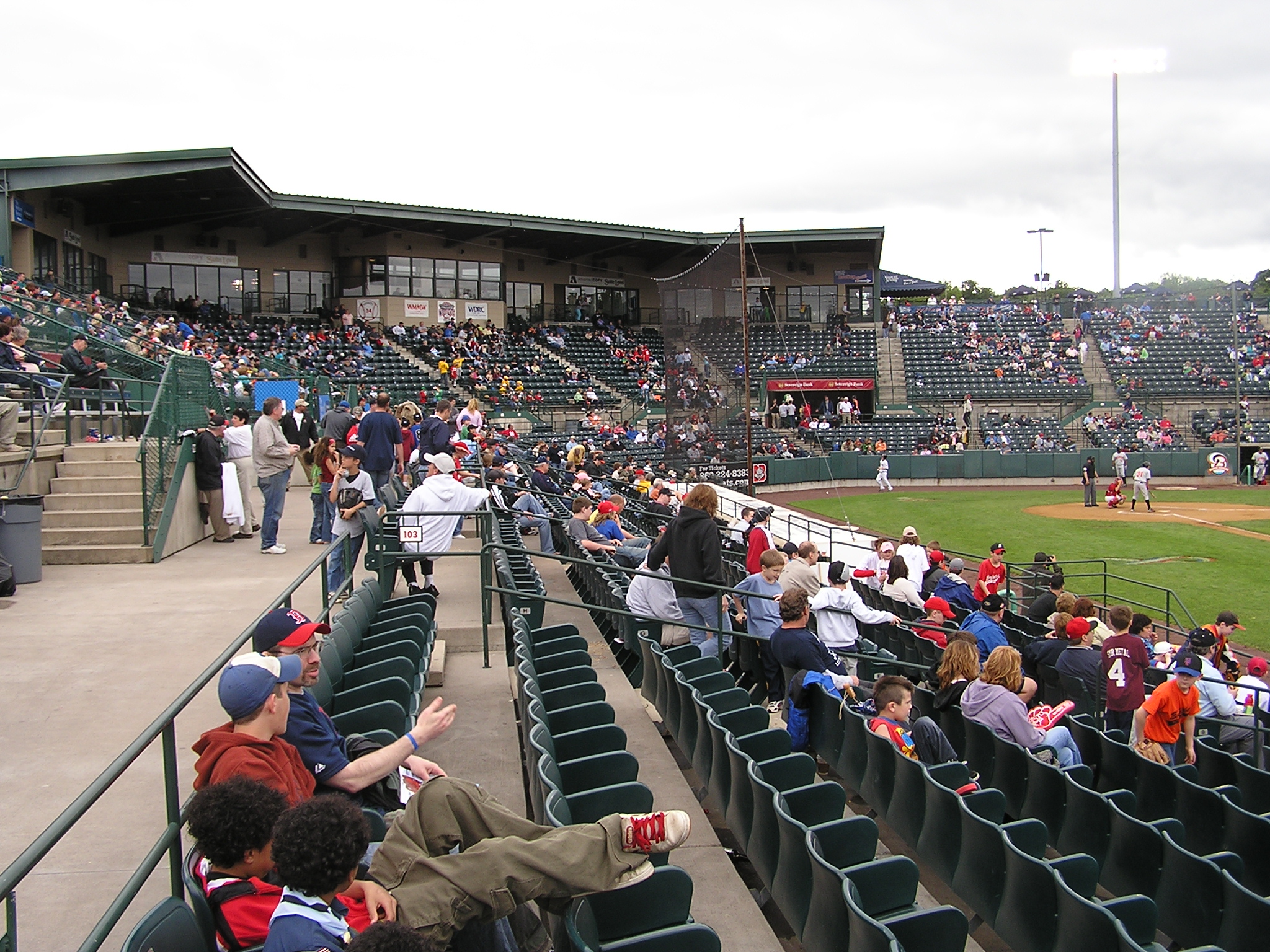 BACK IN 1996 A NEW STADIUM OPENED IN NEW BRITAIN GIVING GREAT HOPE AND A LOT OF RELIEF TO THE CITY OF NEW BRITAIN. THEY KEPT THE TEAM FROM MOVING AND HAD A BRAND NEW FACILITY.
SINCE THE CITY OF NEW BRITAIN WAS HOME TO MY FIRST MINOR LEAGUE GAME, I WAS VERY WORRIED THAT EVEN WITH THE NEW PARK, THIS CITY WAS NOT GOING TO HAVE A TEAM FOR LONG. OVER THE PAST FEW YEARS, MY WORRIES HAVE COME TO AN END.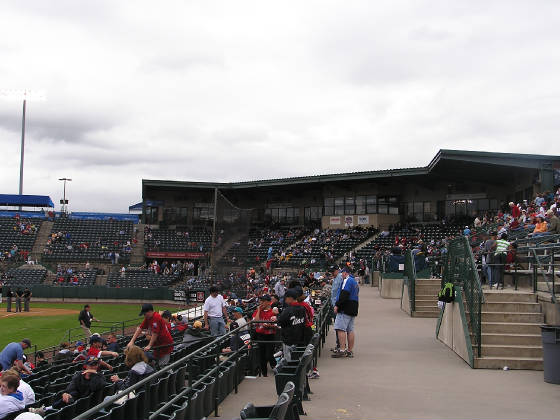 OVER THE PAST FEW YEARS I'VE NOTICED SOMETHING ABOUT NEW BRITAIN STADIUM. IT IS HARDER TO GET TICKETS. THE NEW OWNERSHIP GROUP WHICH TOOK OVER THIS FRANCHISE HAS DONE A GREAT JOB OF MAKING THIS PARK A LOT OF
FUN. IT COULD ALSO BE THAT OVER THE PAST FEW YEARS THE MINNESOTA TWINS HAVE HAD SOME VERY GOOD PROSPECTS PLAYING IN NEW BRITAIN AND SOMETIMES SHOWING UP IN MINNESOTA THAT SAME YEAR. AT A RECENT GAME I ATTENDED THERE WERE THREE #1 DRAFT PICKS ON THE FIELD.

THE STADIUM ITSELF IS ALREADY DATED AT 10 YEARS OLD. UNLIKE THE NEWER STADIUMS HERE IN NEW BRITAIN YOU HAVE TO LOSE THE VIEW OF THE FIELD TO PICK UP A DOG AND A SODA. ALSO, THERE IS ONLY ONE ENTRANCE INTO THE PARKING LOT SO NOW AFTER GAMES, EXPECT TO SIT FOR A LITTLE WHILE.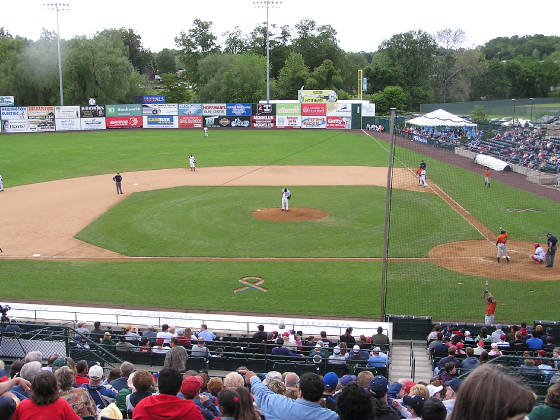 MY FAVORITE AREA OF THIS PARK IS THE SAM ADAMS PORCH ON THE 3RD BASE
SIDE. ATOP THE 3RD BASE STANDS IS A BAR AREA WITH PICNIC TABLES AND A
GRILL ALONG WITH A BAR STOOLS AND A LEDGE FOR YOU TO WATCH THE GAME.
IT MAKES FOR A VERY RELAXING TIME AND A BREAK FROM THE ALUMINUM
BLEACHERS. THE THREE TYPES OF SEATING HERE ARE THE BLEACHERS, SIX ROWS
OF COMFORTABLE FIELD BOX SEATS AND 6 SECTIONS OF BUCKET SEATS. THE
BLEACHERS THOUGH ARE A GREAT VALUE AND OFFER A GOOD VIEW OF THE FIELD.

THANKFULLY, NEW BRITAIN HAS ITS ACT TOGETHER AND A TRIP TO A ROCK CATS
GAME IS ENJOYABLE. JUST REMEMBER TO LEAVE A LITTLE EXTRA TIME, PARKING
IS $3 AND IS AVAILABLE IF YOU GET THERE WITHIN 1/2 HOUR OF FIRST PITCH.
BUT, LIKE I SAID, THE POPULARITY OF THE TEAM LEADS TO SOME CREATIVE
PARKING SPOTS WHICH COULD POSSIBLY CAUSE A PROBLEM.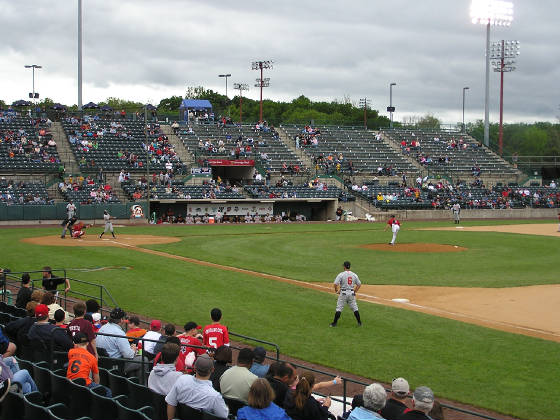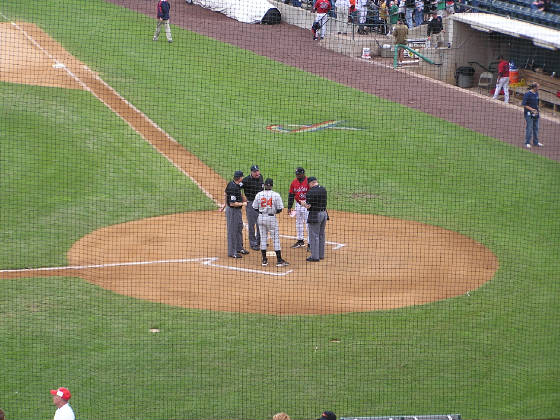 THE LINE UPS

NEW HAVEN MANAGER :::: BILL HAYES

HARDWARE CITY MANAGER ::: AL NEWMAN

NEW HAVEN RAVENS

16 Chris Sexton ss
9 John Myrow rf
12 Edgard Velazquez cf
34 Derrick Gibson lf
22 Todd Helton 1b
14 Jamie Taylor 3b
13 Roger Miller c
4 Jason Goligoski dh
3 Link Jarrett 2b
21 Jamey Wright p / WP
24 Mike Saipe S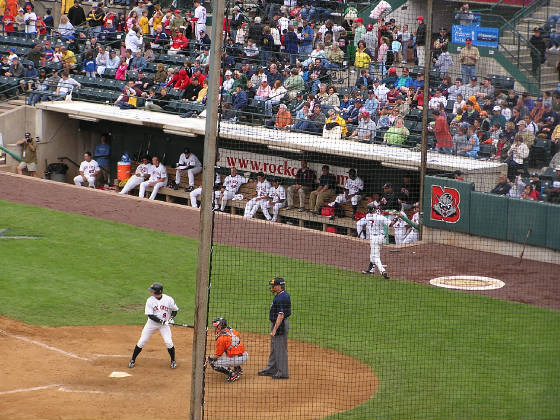 HARDWARE CITY ROCK CATS

5 Ramon Valette ss
21 Gary Caraballo rf
25 J.J.Johnson lf
28 Anthony Lewis cf
35 Chad Roper 3b
20 Ryan Radmanovich dh
33 Chad Rupp 1b
11 Rene Lopez c
7 Jeff Ferguson 2b
30 Jeff Trinidad p / LP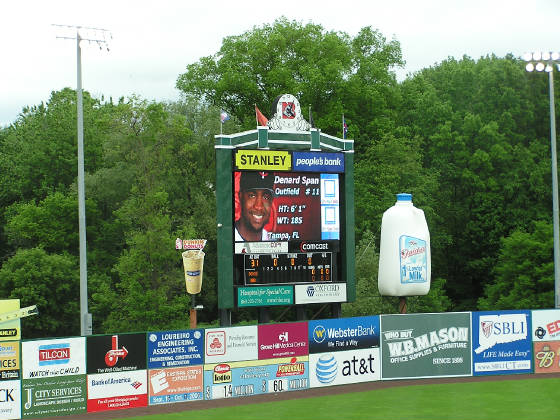 NEW HAVEN RAVENS 000 200 010 3 3 0
H.C. ROCK CATS 000 000 000 0 2 3
TIME ::: 2:26
ATTENDANCE ::: 6,146
WEATHER ::: 50 / CLEAR
SEND ME AN E-MAIL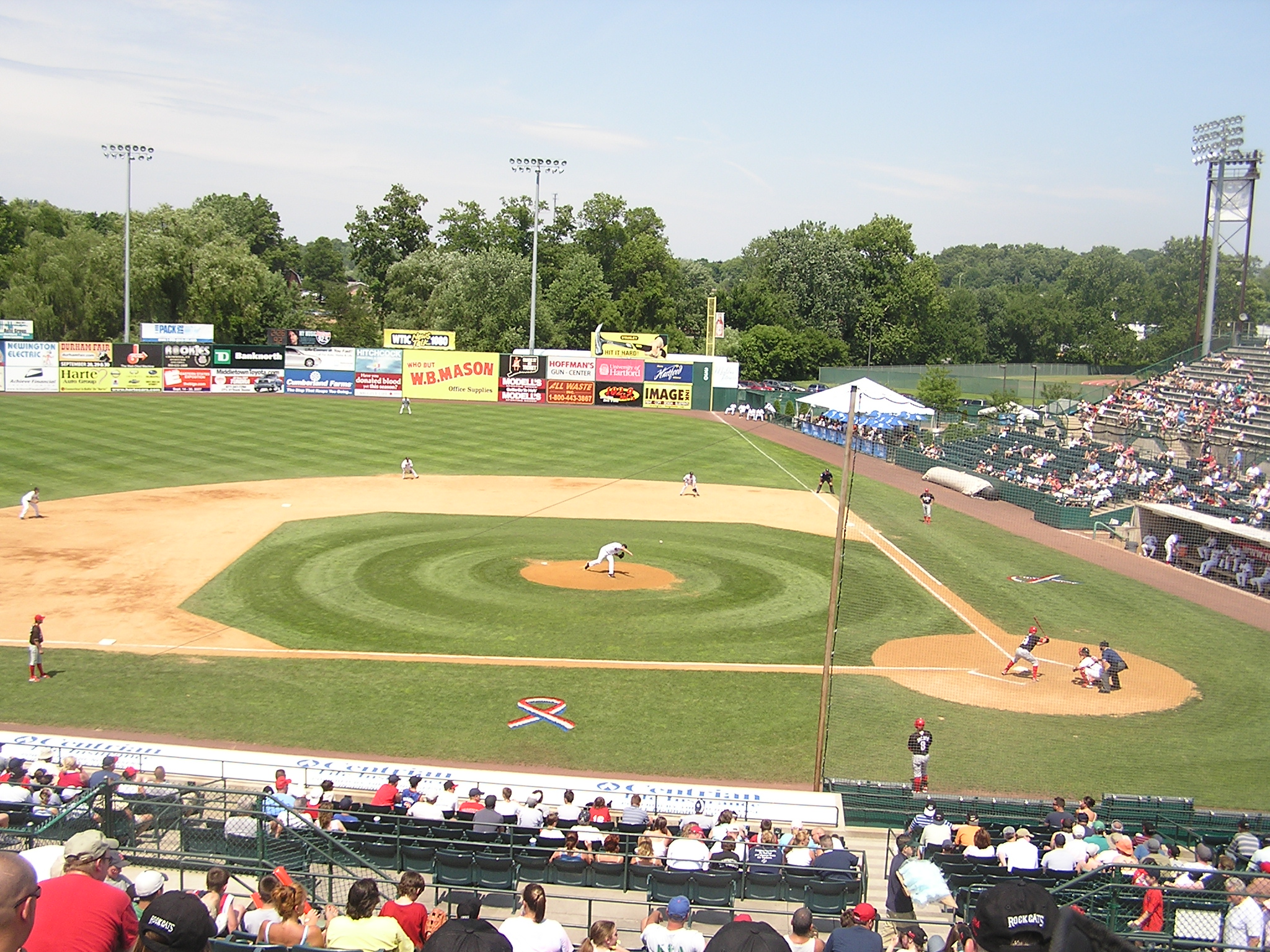 LINKS
The Official web site of the New Britain Rock Cats
Where they used to play, My Beehive Field site
Located in the city of New Britain, A Very Authentic Polish restaurant - Staropolska
New Britain weather from WEATHER.com
© 2000-2012 UNCLE BOB'S BALLPARKS
I AM IN NO WAY AFFILIATED WITH ANY OF THE TEAMS ON THIS PAGE ... THIS PAGE IS MEANT FOR INFORMATION PURPOSES ONLY.